Launched in 2014, the aim of Titcoin is to be a cryptocurrency for the adult entertainment industry. Through Titcoin, individuals can pay for adult entertainment services, such as pornographic material, without leaving a trail of credit card statements and similar. Titcoin can also be a convenient way of paying when traditional financial institutions and transaction providers are unwilling to do any business with the recipient.
Titcoin is a derivative of the more famous Bitcoin. Through modifications of the software, Titcoin can offer faster transactions than Bitcoin, a factor that's extra important when it comes to products and services purchased for instant gratification rather than investing. A Bitcoin transaction will sometimes take up to an hour to process, while Titcoin is much quicker and – on average – have five-minute transaction periods.
The Titcoin system uses pornography on a decentralized peer-to-peer network to manage the issance of new titcoins while simultaneously processing transactions.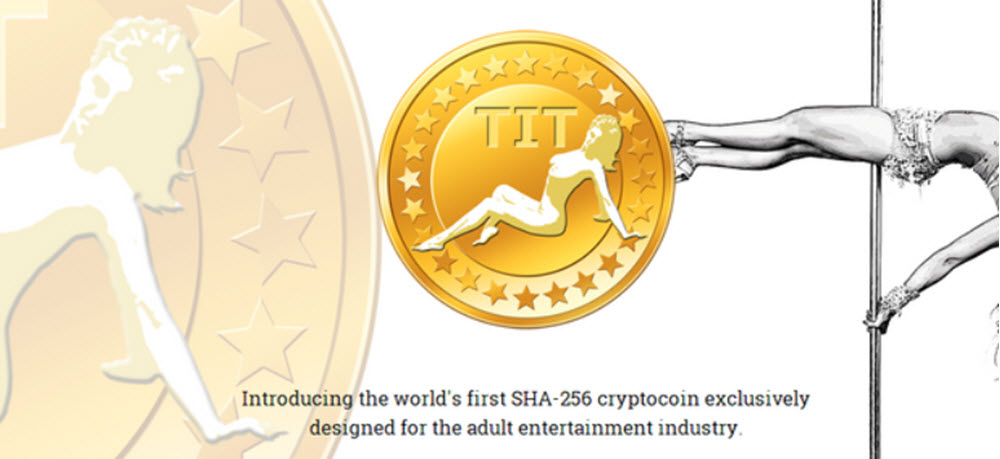 Short facts about Titcoin
Launch: June 21, 2014
Abbreviation: TIT
Background
Titcoin was founded by Edward Mansfield, Richard Allen and an anonymous individual.
The launch of the source code and the Titcoin wallet took place on June 21, 2014.
In September 2014, the former Wall Street stockbroker Patrick McDonnel joined the Titcoin development team as a business development advisor.
In May 2017, Titcoin and its properties were purchased by Joy-Toilet, a development studio for adult games. In September the following year, Titcoin and its properties were acquired by the TittieCoin Developers.
Cryptocurrency and the adult entertainment industry
Several cryptocurrencies – such as Titcoin, Sexcoin, Wankcoin, and Porncoin, have been created specifically for the adult entertainment industry. At the same time, quite a few websites and content within this industry already accept more widely known cryptocurrencies such as Bitcoin, and recipients are likely to find these "mainstream" cryptocurrencies significantly more easy to use than "adult coins" since more vendors outside their own industry accept them as payment. After all, it is convenient to be able to spend a currency without having to exchange it for another currency first. This is believed to be one of the main reasons as to why most of the "adult coin" projects are still struggling.